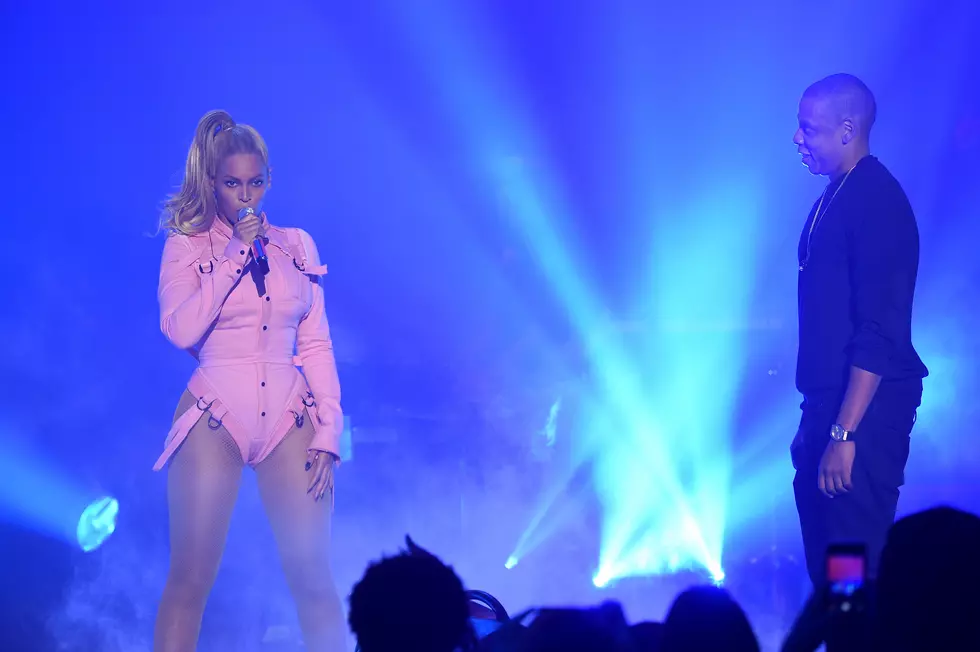 Jay Z And Beyonce Announce On The Run 2 Tour ? – Tha Wire
Getty Images for TIDAL
Today in Tha Wire dates of a On The Run 2 Tour appeared Monday (March 5, 2018) on Beyonce's Facebook, and Ticketmaster's Twitter page. Complex reports the posts got an immediate response, as one of the captions read that presale tickets were going on sale TODAY at 10 a.m.! There was only one date and venue posted, and that was July 30, at the Lincoln Financial Field in Philly.
Then as fast as it appeared, the posts disappeared! So what's the deal? Are we going to get repeat of
On The Run
?!?! Is this another fantastic ploy cooked-up by Bey &
Jay Z
, to fans stirred up? If it was...it worked like a charm. Was this a major typo? What gives? That's the 90 million dollar question
EVERYBODY wants to know at this point. If I had to guess, I'd lean towards the tour being a real possibility. Hov has plenty of new material since dropping the
4:44
LP last year, and Beyonce's way overdue for a new album. Anything is possible with those two.
The dynamic duo could be headed back out for a Part II (On The Run), or Bey could be riding solo on the road. Maybe there's no tour at all, rather a new album. Whatever it is...when the time is right, I'm sure they'll break the news in the same over-the-top, super-fantastic fashion their known for.
Adding to the excitement is the Carter's appear on DJ Khaled's new joint, Top Off.  The track also features Future, and is the lead-off single for Khaled's new album Father of Ashad (released March 2, 2018.) Below peep the sweet album announcement staring his little boy, and visual for the forthcoming music video.
Looks like a hot one! We ready y'all! Let's go! Meanwhile, there's one tour we know is going down. The road trip headlined by actor/comedian Donald Glover is on the way this Fall. The multi-talented artist is gearing up to hit the road as his alter ego, Childish Gambino, and fellow rap super star Rae Sremmurd. Cop your tickets now! Click HERE, for the full tour itinerary.
Last but not least The Source reports Rick Ross is back at his crib in Miami recuperating. The Maybach CEO had a major health scare last week, which led to a 4-day hospital stay. As previously reported Rozay was found unresponsive, and breathing heavily at his home last Thursday (March 1, 2018.) Paramedics responded to a 911 call, and transported the MMG founder to a nearby Miami hospital.
According to published reports, the Maybach Music CEO received emergency care in the hospitals cardiac unit. It's still not clear if the rap mogul suffered a seizure, or a heart attack. There were some reports that he may of had pneumonia, but nothing about his diagnoses has been announced or confirmed by anyone in his camp. We'll keep you posted on any further details, in the meantime we're just glad the Boss is good. We wish you a speedy recovery Rick!
That's a wrap on today's entertainment news. For the latest tea, get the scoop daily with Tha Wire, and exclusively on The People's Station 107 Jamz.