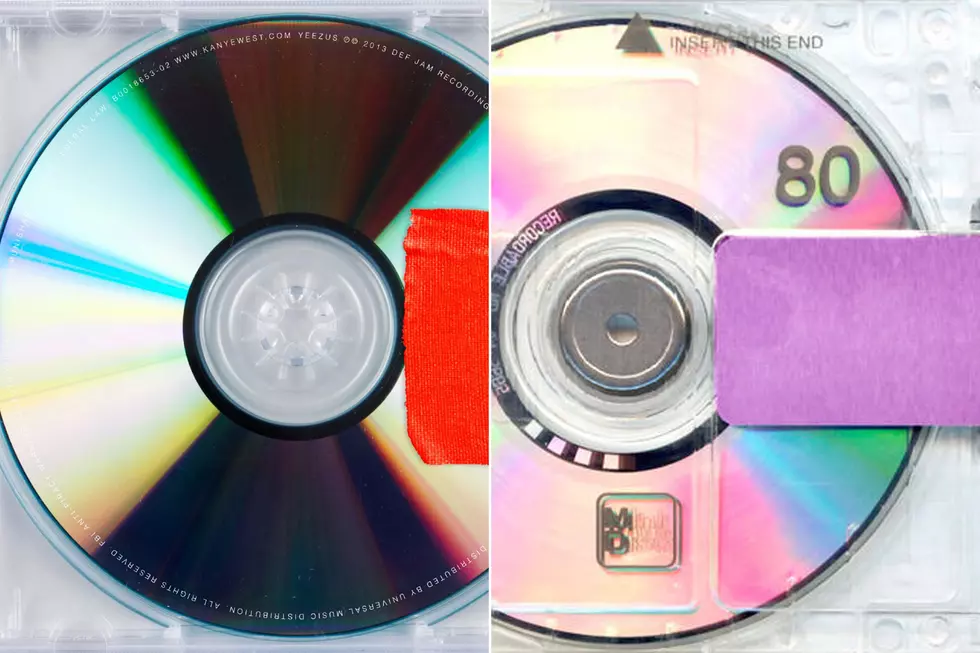 From 'Yeezus' to 'Yhandi': How the Old Kanye West Gave Birth to the New
G.O.O.D. Music
Kanye Omari West, son of Donda, husband of Kim, and forefather of all things G.O.O.D., has always lived by a simple mantra. In all his paradoxical glory, his principles have always remained firmly entrenched in authenticity: "I'd rather piss a bunch of people off and make myself happy," he once told Vibe, "than make everyone else happy and be pissed off inside."
So there's what we've come to accept as the Old Kanye – the brash linchpin of "chipmunk soul" who reigned supreme over relics like iPods and boldly declared that "George Bush doesn't care about black people" – and the New Kanye, who relishes the "dragon energy" of Donald Trump and dismissed slavery as a voluntary act. But while a distinction between these personas is nearly impossible to pinpoint, sonically it's not up for debate. 2013's Yeezus closed the casket on a man we all knew and loved while ushering in the era of the New Kanye.
While the intersection of vanity and sensationalism had always been Kanye's forte, Yeezus was a prophecy disguised as a body of music. Part tribute, part travesty, his album title invited the scorn of evangelicals and casual Christians alike, despite the fact that the King James version of Psalms 82:6 seemingly co-signs this moniker: "I have said, Ye are gods; and all of you are children of the most High." But as a revolutionary only limited by the boundaries of his own imagination, his beautiful mind rose from the ashes of sped-up soul samples to deliver the album his previous incarnation was incapable of.
On the surface, Yeezus comes off as method acting. While his earlier works were buoyant celebrations of his relatability and perseverance, flirtations with egocentricity arrived on the decidedly stadium-friendly Graduation. There, he made toasts to the "Good Life," declared himself a "Champion" and give us all the finger on "Everything I Am," asserting "You see how I played a big role in Chicago like Queen Latifah?" But personal tragedy would prove his bravado was merely a facade, as sorrow took center stage on 808s and Heartbreak. And while My Beautiful Dark Twisted Fantasy saw Kanye reemerge as a boisterous cynic, he fully embraced the villainy that tabloids and soccer moms had often accused him of on Yeezus.
At times almost sounding like a caricature of himself, Kanye preys over soundbeds drenched in angst and acid house in order to announce his ascension to Godhood. And in further differentiating himself from the biblical figures we pray to, he openly indulges in sins like lust ("I wanna fuck you hard on the sink" from "Bound 2"), sloth ("You see it's leaders and it's followers / But I'd rather be a dick than a swallower" from "New Slaves"), and wrath ("These bitches surroundin' me, all want something out me / Then they talk about me, would be lost without me" from "I Am A God"). Proving himself to be nothing like Jesus Christ and more in line with the destructive nature of Ares, the Greek god of war.
But the chaos far exceeds Kanye's rants and ravings. Jamaican dancehall, throbbing techno bounce and even industrial elements contribute to the beautiful nightmare that is Yeezus. Gone are the pink polos and Marvin Gaye samples from days of yore, Yeezus channels the music sensibilities of Trent Reznor while drawing inspiration from, of all things, a lamp. "This one Corbusier lamp was like, my greatest inspiration," he told the New York Times." But while Kanye credits architecture for his seismic paradigm shift in sound, a bevy of artists drew similar inspiration from the release of this album.
"[Yeezus] stood for exactly what I stood for, being progressive with rap music," underground stalwart Danny Brown told Huffington Post. "If someone like him is sticking his neck out in his position, and saying, 'Let's be experimental,' and now being experimental is cool, then that does nothing but help somebody like me."
Country superstar Keith Urban echoed a similar sentiment, proving that the artistic freedom that Yeezus stirred within others wasn't restricted to rap acts. "I don't understand how people can be anything but totally inspired by that," he told Rolling Stone. "[Yeezus] was sonically riveting […] Country has an incredible history of knowing how to slowly absorb new elements to keep it evolving and moving at a particular pace that works for it."
Kanye's influence is pervasive and immeasurable, seeping into fashion, film and countless other realms. But while Graduation gave us Logic, and 808s and Heartbreak gave us Kid Cudi and Drake, Yeezus lays claim to offspring such as fallen star XXXTentancion, G.O.O.D. Music protégé Travis Scott, Ski Mask the Slump God, and an entire underworld of lo-fi rappers. Yet of all its illegitimate children, it's multi-hyphenate Childish Gambino who has irrefutably embodied its texture and ethos.
As the self-proclaimed "Son of Kanye," the parallels between West and Donald Glover are uncanny. But Kanye's greatest gift to his progeny was a blueprint for his own unrepentant brand of self-expression. Following in the footsteps of his predecessor, Glover built an entire ecosystem around Because the Internet, complete with a script, a short film (à la Runaway), and Twitter accounts for its cast of characters. Meanwhile, the album itself marks a dramatic shift in tone from his previous efforts, tapping into the industrial sounds and abstract temperament of Yeezus. This is best exemplified on the track "No Exit," in which The Boy, the character Glover assumes from the accompanying short film Clapping for the Wrong Reasons, takes a sadistic plunge into the mind of a murder.
Glover further expanded upon the concept of synesthesia in unleashing the jaw-dropping Pharos concert series, the precursor to the psychedelic assault that was Awaken My Love! "This Is America" would break even more boundaries, propelling Glover from a superstar into a full-fledged cultural phenomenon. Just like his antecedent. "I love Kanye. I think he's like the best," he gushed to Fuse. "Not even just on music level—I try not to be like 'he's a musician' or 'he's a rapper,' that holds people back—I think he's like a prophet. He makes people want to be better."
In updating the sonic blueprint of electropunk outfit Death Grips, Yeezus popularized more than "aspiration minimalism." It introduced an entire essence. "I feel like I don't want to be inside anymore," says Kanye. "Like, I uninvited myself." And in doing so, Yeezus unshackled the rest of us as well.