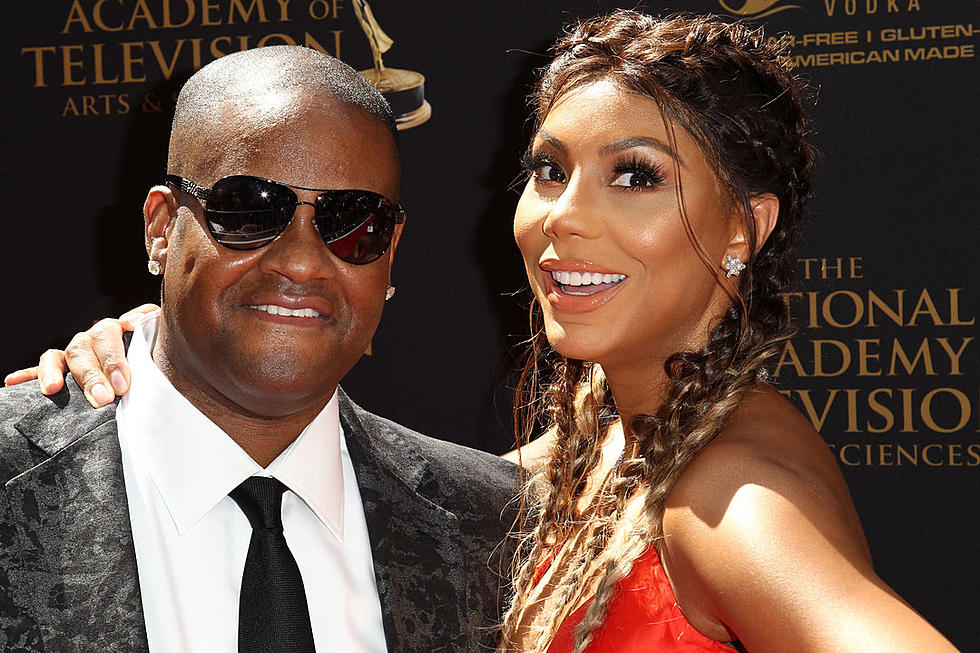 Tamar Braxton Files For Divorce After 9-Years Of Marriage – Tha Wire
Leon Bennett, Getty Images
Today in Tha Wire, I'm really sad to report the rumors are true. Tamar Braxton has infact filed for divorce from her husband/producer/manager, Vincent Herbert. Rumors of divorce sparked up last year, after the star posted a cryptic Instagram message of her hand and no ring. If you watched the reality show's past episodes, it's pretty clear they've had some serious issues in the past. Unfortunately after almost 9-years, they just couldn't overcome them. Was she sending a subliminal message then?
What's crazy is their WeTV reality show "Tamar & Vince" is still going forward. The hit show is now in it's 5th season, and the new trailer for the Nov. 9 premiere rolled out Wednesday this week. From the looks of things, the season it's going to be all about how their marriage fell apart. The proof is at the end of the trailer, where the Tamar takes off her wedding ring and says, I'm not willing to live like I've been living." Along with yesterday's season premiere sneak peek, the singer's rep officially announced it was over for the couple.
According to PEOPLE Tamar's rep confirmed the 40-year old star filed for divorce Tuesday October 24, 2017 in the following statement:
"At this time we can confirm Ms. Braxton has made an extremely difficult decision and has filed for divorce from Vincent Herbert. Collectively, their son Logan and his well-being during this extremely unfortunate process is most important. We ask that everyone respects her privacy during this incredibly difficult time. She appreciates everyone's love and prayers."
Tamar and Vince started dating in 2003, then jumped the broom in 2008. From the word go, their marriage was in the spotlight. Two years after their wedding they were first featured in Braxton Family Values, before landing their own spin-off on WeTV. Through the years of watching them together, it wasn't hard to see they fought as hard as they loved.
They've reportedly had some major fights, with some reportedly getting physical. One in particular led to Vince biting the singer's finger, during a domestic dispute in their hotel room at the Ritz-Carlton. The incident occurred last year in Atlanta, and it got so bad that a member from Tamar's entourage was concerned enough to call 911 for police assistance. The 44-year old record exec left the seen before police arrived. Below is the actual 911 call.
The next day they tried to keep it moving, when TMZ approached the couple at LAX. As with anyone would, they didn't offer any comments and that was that. Honestly, I don't think it's ever cool for people to lay hands on one another. At the same time in love and war, things can get really get heated. If you're with someone long enough, you're going to fallout. Maybe they just need a little time apart.
It's just sad that they couldn't hold it together. Sources say Tamar moved out of the family home a couple of months ago. Obviously she felt it was time to move on. TMZ reports Tamar filed for divorce in L.A. County on Tuesday. The pending divorce comes, just one month shy of their 9-year wedding anniversary. Hopefully they can focus on co-parenting their 4-year son Logan, without a nasty drawn-out divorce.
Meanwhile ahead of this week's news Tamar Braxton announced she was retiring from music. Her latest music project dropped on September 29, 2017, and much like Mary J.'s Strength of A Woman, Tamar is letting off some emotional steam. The songstress sheds some light on her inner most feeling, offering 11 tracks of the painful up's and down's of her relationship. The new album also features her new single "My Man," ironically a musical account of her father's infidelity. It's no secret that she and her sister's continue to struggle with the painful memory, that destroyed their family.
Tamar told ET in a recent interview that her new LP, Bluebird of Happiness, is going to be her final album. The songstress said last month that her career was getting in the way of her relationship, and that she willing to do what it takes to save her marriage. The singer explained, "There's a lot of things that are going on in my relationship and me being close to this music industry, and whatever I can do to eliminate all of the stress and problems off of my relationship, I would rather do that." Below see the interview and hear what she shared with the ET host.
I truly wish Tamar, Vince and little Logan the very best. This too, shall pass. Meanwhile, for the best in entertainment news listen to Tha Wire daily on The People's Station 107 Jamz.