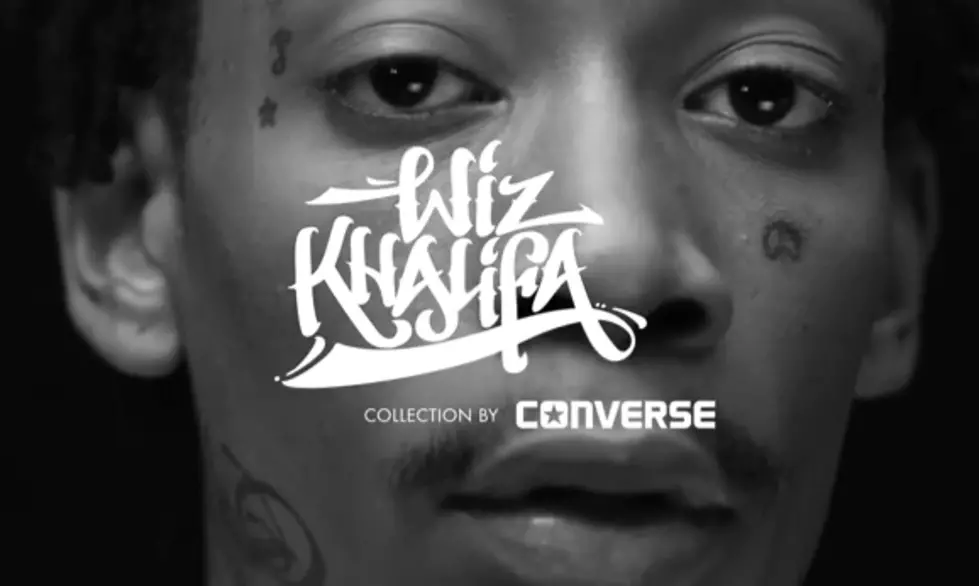 Wiz Khalifa Teams-Up With Converse To Drop The New Chucks — Tha Wire [VIDEO]
Wiz Khalifa and Converse-youtube
Wiz Khalifa has had a big year, from being on tour to being a daddy for the first time.  Life is good.  However, it's about to get even better as he's finally ready to drop his new kicks with Converse.
Wiz is steppin into the fashion lime-light himself, by releasing a new collection of kicks with Converse.  In a new commercial clip, Wiz gives fans a sneak preview of his collaboration with the classic sneaker line. Not to much of the kicks are shown though, however here it is anyway.
In the meantime the Wiz Khalifa Collection By Converse is slated to hit Foot Locker stores this Fall, listen to Tha Wire below to get the official date below.
In other news, after selling out his ACP line, Kanye West is hard at work at another collection, this time a unisex line.  According to New York Post's Yeezy is prepping a new unisex collection of about 100 pieces…that he plans on revealing at the fall fashion shows.
By the way, ya'll remember his epic meltdown on the 2009 MTV awards right?  Yeah, were our boy famously took the mic from Taylor Swift and told her she shouldn't have won an award.  That.  Well......it's come back to haunt him.  Apparently someone recorded Kanye talking about the incident, shortly after it happened and he had a little more to get off his chest.  OMG Kanye.....
Listne to Tha Wire below for more info on his new clothing line in the meantime.  Wow.
Finally, two men have been accused of posing as reps for Rihanna with connections to Lady Gaga and and duping concert promoters out of more than $2 million.  CBS is reporting that 47-year old Sylvester Vincent Carroll and 38-year old Meceo McEaddy were indicted Thursday of this week on felony grand larceny and scheme to fraud charges.
The two men have tricked Brazilian concert promoters out of $1 million for a series of Rihanna shows in Rio De Janeiro and raked in $500,000 for promising that Lady Gaga would perform at a private party in Cancún.
Mr. McEaddy is facing additional charges for making money off a fake Ke&ha concerta and if that's not enough, facing criminal tax fraud charges as well.  Listen to Tha Wire now and find out how long the two men have been doing this and what it took for them to post bail.
Get all of today's juicy details.  Press play now to hear Tha Wire: