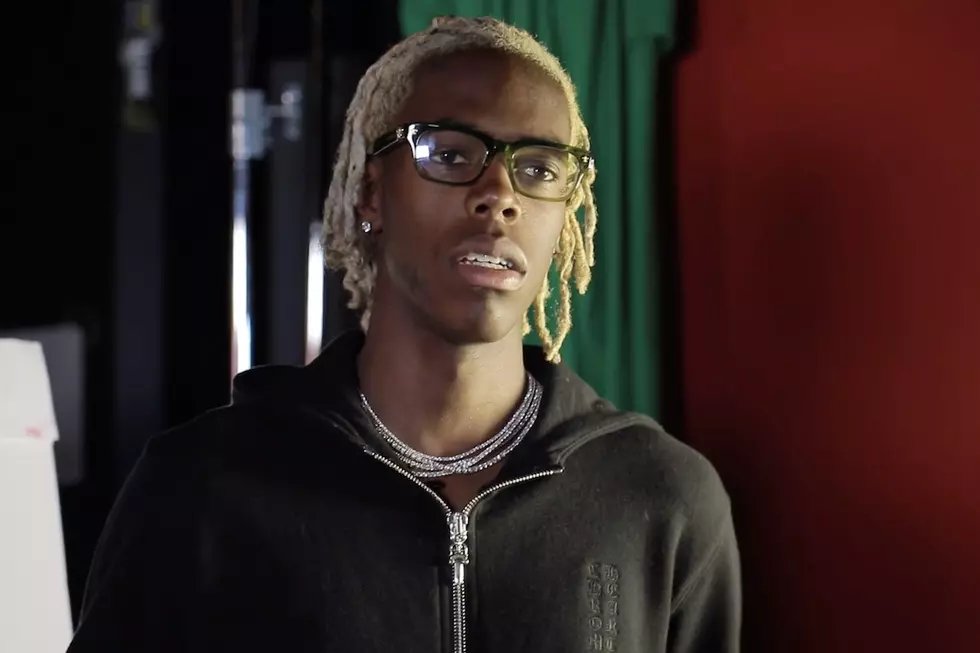 Yung Bans Paints Songs on His Misunderstood Album
XXL
Yung Bans thinks people have the wrong impression about him, which is why he titled his latest album, Misunderstood. To ensure his message resonates more clearly, the 20-year-old rapper chose to paint his way through the meanings of the songs featured on his new LP for XXL's Masterpiece art series.
The 19-song project boasts guest appearances from the late XXXTentacion, Gunna, Young Thug, Lil Durk and incarcerated rappers YNW Melly and 03 Greedo. Bans starts off his work of art by drawing his album title. He paints an "M" for Misunderstood in a light green color similar to the jacket he wore for the album cover art. Then Bans proceeds to paint the SIDEPCE and Nick Mira-produced track "Prada Zombie," another song from the project.
Dabbing his paintbrush onto the canvas, Bans explains the song's creation while painting a zombie head, which he created to look like his manager, Lil Jake. "I just left from shooting my documentary, so I went into the studio and I had to go hard as fuck [on the song]," Bans reveals of how the track was made. "So I spazzed on it, I was just playing with my flows [and] the beat was so hard."
Next up is the Wheezy-produced "Hold Up" featuring Gunna and Young Thug. Bans proceeds to pick up a blue marker and starts drawing a blue raindrop to represent 2019 XXL Freshman Gunna, whose drip is always fresh. He even draws Cartier sunglasses on the raindrop with a black marker. To represent Thugger, Bans decides to go for a snake. "Slime's a legend, he spazzed [on the song]," he shares. For himself, Bans draws a baby goat to indicate that he's a young G.O.A.T. (Greatest of All Time).
As Bans continues working on his masterpiece, he moves into images for the song "Ready Set Go" featuring 03 Greedo and the late rapper XXXTentacion. He gets a little creative and draws two black-and-white checkered racing flags to represent "Ready, Set, Go!," a phrase used to begin a competition.
As for how the song was created, the Atlanta native said he first recorded it in Los Angeles with 03 Greedo. A few months later, Bans shared a snippet of the track on his Instagram page. When XXX heard it, the Florida rhymer wanted to jump on it.
"'Yo, this song is crazy bro can I get on this?'" Bans recalls of XXX's DM to him about the song. "From there I sent it to him...[we're] talking every day, and he called me and said that he was about to have it finished."
Another Misunderstood track that's Bans' favorite is the solemn "100 Shells" featuring YNW Melly. "It's a very hard song," Bans sys of the Smoke Ono and Charlie Handsome-produced track. "I always listen to the song whenever I'm going through some shit. Or if it's raining outside, then I listen to that shit in my Range Rover in Atlanta."
Bans proceeds to draw his big-body Range Rover cruising on the streets of Atlanta and includes squiggly lines for clouds and dashes to represent the rain.
"Made it through the rain, think it's time to spread my wings," he adds, reciting a line from the song. "That shit is so hard."
Watch Yung Bans paint the songs on his new Misunderstood album and explain what each track means to him below.
Here's the Ultimate Guide to Rappers With Acronyms in Their Name