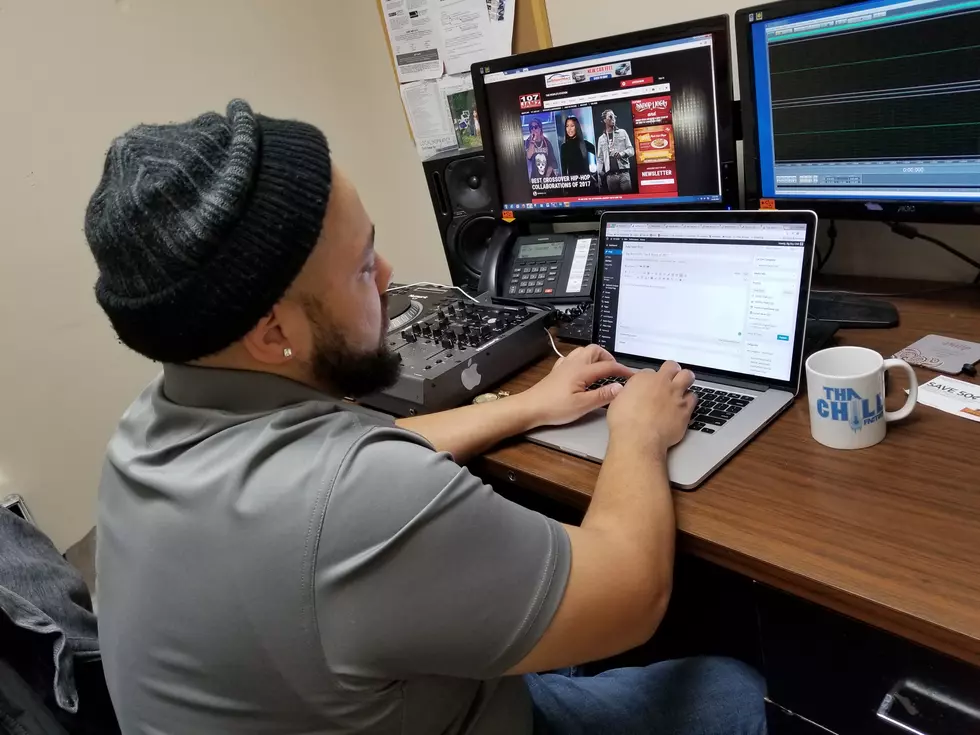 Big Boy Chill's Top 5 Posts of 2017
Philip A. Guillory
What most people don't know, besides our loyal readers, is that my position at Townsquare Media Lake Charles entails more than just talking on the radio and playing your favorite songs. Not only am I a personality, but I also create content for 107Jamz.com as well as four more station websites.
Below are five posts, written by me, that performed the best in 2017. Oddly enough three of them weren't written in 2017, go figure.
---
In February of 2016 rumors ran rampant that Houston hip-hop star Lil Troy was killed in an automobile accident. The rumor was, in fact, false, and to prove it I got him on the phone for an interview to clear up the rumor. Sadly, the person killed in the fiery car crash in Houston, Lil Will, was the cousin of the rap star. Will was featured on Troy's smash hit "Wanna Be a Baller." Listen to the interview here.
---
On January 23, 2017, WorldStarHipHop founder and CEO Lee "Q" O'Denat passed away at the age of 43. Shortly after, his infamous "Vine Compilations" also came to an end. The reason? Vine decided to shut down their site due to a decrease in users. You can thank Instagram for allowing 1-minute stories on posts, which has since birthed "Instagram Compilations" from WSHH.
Vine Comp 158 (2016) included an array of wild video clips from around the world, including the Easter Bunny getting into a mall fight, grannies gone wild, out of hand SnapChat face swaps, and more. Watch it here.
---
In 2017, R&B singer/songwriter Tank said things at a concert that had fans looking at him sideways. He stopped by the Breakfast Club to clear up the rumors, as well as promote his latest album Savage, which was released on September 29.
Watch the full interview here as Tank discusses the state of R&B, successful black men and accusations of homosexuality, his past as a "womanizer", and more.
---
I don't know why folks are still referring to this post, but thanks, I guess. It's a bit outdated, published on May 26, 2015.
I rated the top 5 rappers in Louisiana, at that time, and caused a bit of a stink on Facebook, but whatever. It was my opinion, get over yourselves.
In 2018 I'll write a new list, and I'm quite sure with the exception of a few, it will look somewhat different. I'm also certain I'll anger someone again who doesn't agree, but whatever. I'll leave you in suspense as to who will be replaced on the new list. Since you all like reading old posts, read the full 2015 list here.
---
In at number one for 2017 is my coveted "Best Boudin in Louisiana" post that also made its way into the booklet for the 2017 Scott Boudin Festival. People in Cajun Country love a plethora of things, at the top of that list sits seafood, gumbo, booze, and boudin. Maybe not in that exact order, but I assure you it's all on there and some more.
This post would probably sit on my top five posts of all time since I became a blogger and content creator. It sits behind my "Members of the Zulu Nation Send a Warning to Popular Website WorldStarHipHop" post that garnered well over 500,000 hits, one year after it was published. The second would have been a post I published about an alleged assault on a customer by a Lake Charles Burger King employee that could have very well gone viral internationally, but politics. My digital manager and I were ordered to take the story down. Days later the story went viral. I digress.
---
I would like to thank every single person who read my posts in 2017 as well as all content created by Erik Tee, Gina Cook, and our partners at XXLMag and TheBoomBox. Rather you discovered our content via 107Jamz.com, Facebook, or Twitter, we thank you. Because of all you, we all get to keep our jobs! [LOL] But seriously.
Happy New Year Southwest Louisiana!